Superior Training Means Superior Service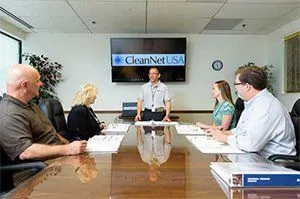 Quality service begins with quality people. Each CleanNet® certified operator receives extensive, ongoing training in product and equipment usage, cleaning & maintenance methodologies, safety procedures, and customer relations. You can count on prompt and courteous attention.
Continuous Quality Assurance
CleanNet® uses internally developed software to monitor quality levels at each site. CleanNet's proprietary software enables CleanNet Quality Assurance employees to monitor cleaning and maintenance standards and take action when necessary, from solving basic problems to incorporating remedial training.
Taking pride in the details®
To request a Cleaning Service Proposal or additional information, please contact us today by calling 800.735.8838 or filling out this brief Request for Proposal Form.
Franchise and Vendor Opportunities
If you are interested in becoming a Certified CleanNet Operator, click on one of the links below to learn more.